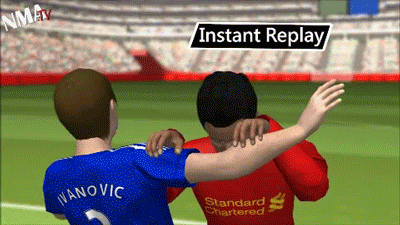 nmatv.tumblr.com
Suarez: 1-2-3 Bites,You're (Not) Out
Published 24 June 2014
Luis Suarez's vampiric reputation proceeds him, as demonstrated in Uruguay's match against Italy in the 2014 World Cup on Tuesday, when he bit Italian defender, Giorgio Chiellini, on the shoulder. However, Uruguay went on to win the match and Suarez was not punished, despite Chiellini showing visible bite marks. 
This isn't his first biting incident -- it's actually his third -- his first was in 2010 at Ajax, with the victim being Otman Bakkal, PSV Eindhoven's attacking midfielder. After biting Bakkal on the shoulder, Suarez was suspended for 7 matches. 
His second happening was in 2013 when he was playing for Liverpool in a match versus Chelsea. Suarez bit defender, Branislav Ivanovic, on the arm and resulted in a 10-game ban. 
Has Suarez learned his lesson? Can he be a civilized player? Only time will tell, but it seem that after his latest melee, the biting is paying off -- the first and second incidents garnered him suspensions and ended in draws. Tuesday's match was a victory for Uruguay and Suarez received no in-game punishment for his actions. 
So all the soccer players out there: BEWARE of biters, especially Luis Suarez.